Podcast: Play in new window | Download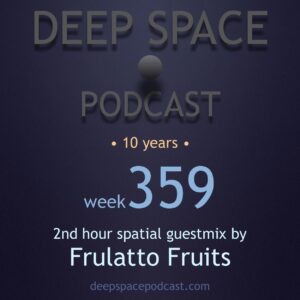 E ae!
Welcome to Deep Space Podcast! Many thanks for listening.
Merry Christmas and Happy Holidays!
This is the last show of 2020! Wow… What a year…

To finish the year's season of spatial guestmixes, I've a pleasure to present Frullato Fruits!
I was introduced to him by Emitate in 2018 and he accommodated me on his home in my South Africa tour for 2 weeks that year. Many thanks for putting your mix together, brother! All the best to you and your family, Merry Christmas and Happy Holidays!
Well, I also wish you all listeners a wonderful 2021!
Stay safe, don't drink and drive. See you in the next year!
Enjoy the week359!
Playlist:
Artist – Track Name – [Label]
1st hour mixed by Marcelo Tavares
1) Uonduh – Under – [Muscut]
2) Ozo – Anambra (Extended 12″ Mix) – [Isle Of Jura]
3) Prince Ozay – Ultima – [Chiaia Lovers]
4) Kutiman – Awake In Dub
5) Evan – On The Sunny Side Of The Street
6) Unknown – ;;;
7) Marlene Stark – Was Ist Feucht? – [Lustpoderosa]
8) Mr TC – Batucada (Edit) – [Huntleys + Palmers]
9) Sangre Voss – Bey – [Rhythm Section International]
10) Byron The Aquarius Feat. Lil John Roberts, Dashill Smith, Chocolat Costa – Edgewood Ave – [Axis]
11) Afrikan Sciences – Have It Tall – [ESP Institute]
12) Jungle By Night – Spending Week (Oceanic 'Cornucopia' Remix) – [New Daw]
13) Lavoura – Deep Safe
2nd hour spatial guestmix by Frulatto Fruits (South Africa)
Sorry, no playlist.