Podcast: Play in new window | Download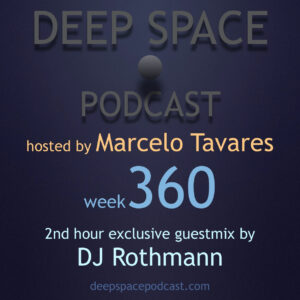 E ae!
Welcome to Deep Space Podcast! Many thanks for listening.
Happy New Year! This is the very first show of 2021!
I wish you all the best and a propsperous year!
Today, you gonna listen an exclusive guestmix by DJ ROTHMANN (Rothmann Music, South Africa) in the second hour!
Please check more detailed information about DJ Rothmann in the links below:
https://rothmannmusic.bandcamp.com
https://web.facebook.com/Rothmannmusic
Enjoy the week360!
Playlist:
Artist – Track Name – [Label]
1st hour mixed by Marcelo Tavares
1) Jesse Bru – Lucid Dreaming – [Happiness Therapy]
2) Charles Webster Feat. Sipho Hotstix Mabuse – I Wonder Why – [Dimensions]
3) Alex Albrecht Pres. Melquíades – Denver Chimes – [Bouquet]
4) Lawrence Le Doux – Filament – [Kalahari Oyster Cult]
5) Stefan Ringer – OTW – [Quintessentials]
6) Scharbatke – New York – [So Glad]
7) Takecha – Off The House – [Holic Trax]
8) Torei – Fish Shooter – [Set Fire To Me]
9) NATE08 – Hold Up – [The Jazz Diaries]
10) Azymuth – Jazz Carnival (Global Communication's Space Jazz Mix) – [Far Out]
11) Greg Paulus – Do You Love Me? – [Freerange]
2nd hour exclusive guestmix by DJ Rothmann (Rothmann Music, South Africa)
1) Avi Subban – Eternal – [Suid Tronica]
2) BillowJazz- Tear Blotch (Jazzuelle Dub Mix) – [Stay True Sounds]
3) China Charmeleon- Colours – [Stay True Sounds]
4) Gub Gibbons – A Giant Tale – [DeepStitched]
5) Krippsoulisc- Phil – [DeepStitched]
6) Krippsoulisc- Rules & Remains – [DeepStitched]
7) !Sooks- W.S.G – [Atjazz Record Company]
8) Noah Skelton- Vibrations – [Cabinet]
9) Just Baker – Highland Park – [Sooo WET]
10) Janet – March – [RYMD]
11) SMBD – Piano Lick – [Dirt Crew]