Podcast: Play in new window | Download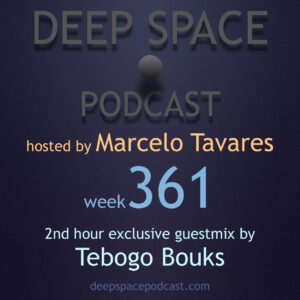 E ae!
Welcome to Deep Space Podcast! Many thanks for listening.
In the second show of 2021 you gonna listen an exclusive guestmix by my super brother Tebogo Bouks, host from 'Do It For Radio Heads' on Westside FM in Kagiso, Johannesburg, South Africa.
Please check more detailed information about Tebogo Bouks in the link below:
https://web.facebook.com/doitforradioheads
Happy birthday to our brother Prince Trash also from Kagiso! Many greetings, bro!
Happy birthday too to UMngomezulu and MTDO! Both have guestmixes here at Deep Space Podcast, you can search at https://deepspacepodcast.com/episodes
Enjoy the week361!
Playlist:
Artist – Track Name – [Label]
1st hour mixed by Marcelo Tavares
1) Linkwood & Other Lands – Gold Leith – [Athens Of The North]
2) DJ Heure Feat. J.Pauler – Desperados – [ILIO]
3) Poseidon Neptune – Saht Nam – [Steady Flight Circle]
4) Doc L Junior – Metro Part 1 – [Full Pupp]
5) Manuel Darquart – Keep It Dxy – [Wolf Music]
6) Tobetsa Lamola – Bad Night Out – [Deep Inspiration Show]
7) Patrick Conway – Hypersocial – [Safety Test]
8) Mok Jay – Right Eye Left Eye
9) Umberto – Restoration – [FLMB]
10) Meftah – Ur Utility – [Steady Flight Circle]
11) Rhythm Of Paradise – I Feel Now – [Skylax]
12) Lool 2 Luul – Sector 5 – [Pace Keepin]
2nd hour spatial guestmix by Tebogo Bouks
Sorry, no playlist.