Podcast: Play in new window | Download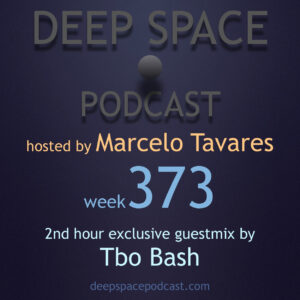 E ae!
Welcome to Deep Space Podcast! Many thanks for listening.
week373 is out now featuring exclusive guestmix by Tbo Bash from Brits, South Africa! It's his 3rd guestmix featured on Deep Space Podcast. Many thanks, brother!
Please check more detailed information about Tbo Bash in the links below:
Facebook: https://www.facebook.com/djtbobash
Twitter : @TboBash
You can catch me live almost everyday starting from between 3 ~ 4pm GMT-3 (15h ~ 16h São Paulo / 8pm ~ 9pm South Africa) on my homepage and on my Twitch channel. Please join to say "E ae"! You can subscribe or send bits to support my work.
Twitch: https://www.twitch.tv/deepspacepodcast
Enjoy the week373!
Playlist:
Artist – Track Name – [Label]
1st hour mixed by Marcelo Tavares
Sorry, no playlist. Recorded by livestreaming at deepspacepodcast.com and twitch.tv/deepspacepodcast in the last night April 9, 2021.
2nd hour exclusive guestmix by Tbo Bash (Brits, South Africa)
1) Peletronic – Wrapped In Silk – [ForTunea]
2) Bliss – Right Here(Bliss Remix) – [Music For Dreams]
3) Zuat-zu – At Midnight – [Wasabi]
4) Daniel Steinberg – Joy & Happiness – [Arms & Legs]
5) Jimpster – Echoes In My Head – [Freerange]
6) Franck Roger – Get Ready – [Body 'N Deep]
7) Patrice Scott – Ghetto Love – [Sistrum]
8) China Charmeleon – Tell Me, Tell Me – [Stay True Sounds]
9) Franck Roger – Remember (Rocco Rodamaal Underground Mix) – [Real Tone]
10) SculpturedMusic – Niafunke (DeepXcape & Lilac Jeans Remix) – [House Afrika]
11) Roy Rosenfeld – Lift Of Love – [All Day I Dream]
12) Roland Clark – I Can't Breathe (Accapellla) – [Delete]