Podcast: Play in new window | Download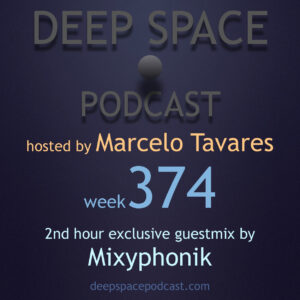 E ae!
Welcome to Deep Space Podcast! Many thanks for listening.
Today you gonna listen an exclusive guestmix by Mixyphonik in the second hour!
Please check more detailed information about Mixyphonik in the links below:
https://twitter.com/mixyphonik
https://facebook.com/mixyphonik
https://hearthis.at/efsuh.com
You can catch me live almost everyday starting from between 3 ~ 4pm GMT-3 (15h ~ 16h São Paulo / 8pm ~ 9pm South Africa) on my homepage and on my Twitch channel. Please join to say "E ae"! You can subscribe or send bits to support my work.
https://www.twitch.tv/deepspacepodcast
Enjoy the week374!
Playlist:
Artist – Track Name – [Label]
1st hour mixed by Marcelo Tavares
1) Rich H – Taking Direction
2) Ritz – Low Tide Dub – [Blossom Kollektiv]
3) Addex – Mainland – [Limitation Music]
4) Mpeshnyk – Brink Of Disaster – [Atjazz Record Company]
5) Sarp Ylmas – White Walls, Black Curtains (Havantepe Remix) – [Mussen Project]
6) Orlando Voorn – Waters Run Deep – [Burek]
7) Harrison BDP – Decompression – [STRCTR]
8) K•Mo – Time Travel – [Wayout]
9) Khutšo Chuma – All A Dream
10) Stump Valley – Sogno D'Amore – [Soul Clap]
2nd hour exclusive guestmix by Mixyphonic South Africa)
1) Niles Cooper – Oldtown (Dub) – [Running Out Of Stream]
2) Joel Holmes – Pose – [Toy Tonics]
3) Till Von Sein – Love T.K.O – [Tilly Jam]
4) Campion – Zazen – [Fina]
5) BABSY – Another Session – [Apparel Music]
6) Draso – Quartet – [Do Not Sit On The Furniture]
7) Soledrifter – That Chance – [Peppermint Jam Germany]
8) Mundos Sutis – Soul Transmission – [Seven Villas]
9) Javonntte – Big City People – [Calls And Puts]
10) Peletronic – About the Void (Soulphiction Remix) – [Fortunea]
11) Jakobin – Pad Work – [Fortunea]