Podcast: Play in new window | Download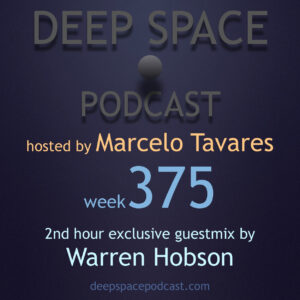 E ae!
Welcome to Deep Space Podcast! Many thanks for listening.
You gonna listen in the second hour today a guestmix by my super brother Warren Hobson from Pretoria, South Africa!
Please check more detailed information about Warren Hobson in the link below:
https://soundcloud.com/viyella
Enjoy the week375!
Playlist:
Artist – Track Name – [Label]
1st hour mixed by Marcelo Tavares
1) Planisphere – Beat Down The Bad – [Black Key]
2) Coreteck – Deep Space
3) Cubanix – Bad Kitty – [Honduban Music]
4) The Mechanical Man – Take Her In Your Arms – [Forbidden Dance]
5) Of Tepe – The Replicant
6) Norm Talley – Dreaming in Detroit – [Parabellum Detroit]
7) nostalgictone – Translation (Deep Reconstruction) – [Nu Notes Music]
8) Chaos In The CBD & Jon Sable – Te Puke Thunder – [In Dust We Trust]
9) Dub Striker – Mood – [STRCTR]
10) Ion Ludwig – Soul Vaseline – [Adam's Bite]
11) Andy Ash – Vacancy – [Still Music]
2nd hour exclusive guestmix by Warren Hobson (Pretoria, South Africa)
Sorry, no playlist.