Podcast: Play in new window | Download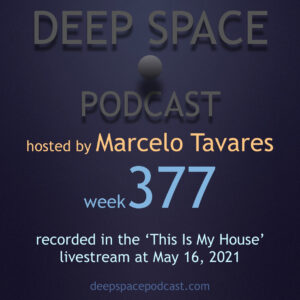 E ae!
Welcome to Deep Space Podcast! Many thanks for listening.
Today you gonna listen my mix recorded yesterday May 16, 2021 in the 'This Is My House Volume 42' livestream hosted by DJ Mimi.
You can check more information about DJ Mimi and his weekly 'This Is My House' sessions every Sundays from 4pm GMT-3 in the link below:
Twitch: https://www.twitch.tv/djmimidasilva
Enjoy the week377!
Playlist:
Artist – Track Name – [Label]

Recorded in the 'This Is My House Volume 42' livestream hosted by DJ Mimi at May 16, 2021.
1) Addex – Eko – [Limitation Music]
2) Paradise 3001 – Tranceference (Part 1) – [XSP]
3) Na Nich – Manipulation – [Oblique Music NL]
4) Affani – You Don't – [MFF (Music For Freaks)]
5) ruur – Brooklyn Pt.2
6) G-Prod – Horizon – [Inner Shift Music]
7) Jean Caffeine – Downtime, Turn Around And Go Backwards – [Classic Music Company]
8) Trans-4M – Dencity – [Buzz]
9) Sarp Ylmas – White Walls, Black Curtains (Havantepe Remix) – [Mussen Project]
10) Tawanda – Hiroshima Boy – [Guangzhou Underground]
11) Eric Kupper Pres. K-Scope – Planet K. – [TRIBAL]