Podcast: Play in new window | Download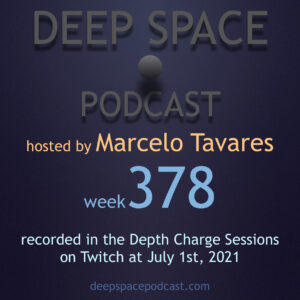 E ae!
Welcome to Deep Space Podcast! Many thanks for listening.
I´m glad to be back with a brand new show, guys!

Big luv to the spacial listeners of the week, Christian Steinburg and Bert Leatherman.
Many thanks for your support!

This mix was recorded on my live guest mix to Depth Charge Sessions streamed on Twitch. Many thanks to Ed Muschamp and Mr. Baseley for inviting me!
You can watch the video recording in the link below:
https://youtu.be/O5tMbCmHBTE
Enjoy the week378!
Playlist:
Artist – Track Name – [Label]

1) Warmth – Crescent – [Etoka]
2) EnaWadan – Oshiyena – [Aluku]
3) Eric Cloutier – Gossamer – [Sistrum]
4) Tenderlonious – Tek-88 – [Dennis Ayler Music]
5) K•Mo Feat. Byron The Aquarius – Space Funk – [Wayout]
6) Scott Grooves – Sundays Best
7) DJ PSYCHIATRE – It's All Magic – [Shall Not Fade]
8) Harrison BDP – Perspective – [SITU]
9) Caapi – Untitled 1 – [Purely Physical]
10) Maizena – The Future – [Regelbau]
11) Derek Carr – Crossroads – [Trident]
12) Social Lovers – Higher (Instrumental) – [Star Creature]
13) Lynx – In Out China (0'19 Rework) – [Kanzen]
14) Moiré – Magma Dream – [Ghostly International]
15) Idealist – Nucleus – [Echocord]
16) Forteba – Delta Spa – [Batavia]
17) Linkwood – Dust Jacket – [Athens Of The North]
18) Space Dimension Controller – Upper Lower – [AUS]
19) Mephia – Dub Illusion – [Society 3.0]
20) LoftSoul & Miruga Feat. RescuePoetix – Wild Ones – [R2]
21) Leon Revol – Gated Time – [Church]
22) General Ludd – Diego Garcia