Podcast: Play in new window | Download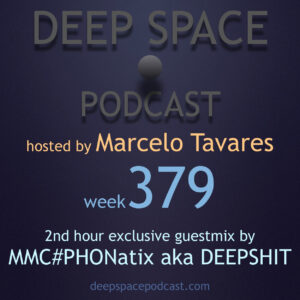 E ae!
Welcome to Deep Space Podcast! Many thanks for listening.
You gonna listen today for the 2nd time an exclusive guestmix by the spacial listener of the week MMC#PHONatix aka DEEP SHIT, from Germany! Guestmix and spacial listener at same time, many thanks for the support, brother!
Please check more detailed information about MMC#PHONatix aka DEEP SHIT in the links below:
https://hearthis.at/hwmmc/
https://www.mixcloud.com/hwmmc/
The 1st hour by myself was recorded today by livestream for the Festival Vibe Lacuna 3rd Edition, hosted by Grazi Flores, from São Paulo, Brazil.
Please check more information about Festival Vibe Lacuna by Grazi Flores in the link below:
http://lacunatropical.blogspot.com/
Enjoy the week379!
Playlist:
Artist – Track Name – [Label]
1st hour mixed by Marcelo Tavares recorded by livestream for Festival Vibe Lacuna 3rd Edition
1) Todd Modes – Rain Rituals – [Going Good]
2) hems – Madsituation
3) Enkō – Codon (Nternal Bserver) – [Crescent London]
4) Leo Gunn – Aheeoo – [Inner Shift Music]
5) Afrobuddha – Zone – [Round In Motion]
6) Benklawk & Mabutana – Damage Control – [Deep inspiration Show]
7) Rai Scott – Bouka
8) passport – Flight Fantasy – [Deep inspiration Show]
9) Moody Waters – Hindsight – [We're Going Deep]
10) ZaVen – Subjective Concept – [Batavia]
11) The Strange Content One Million Miles Away (K Civ InstruMentalbump) – [Nylon Trax]
12) Lynx – In Out China (0'19 Rework) – [Kanzen]
2nd hour exclusive guestmix by MMC#PHONatix aka DEEP SHIT (Germany)
1) 6th Borough Project – Someday (Mathias Schober Remix) – [Roar Groove]
2) An-2 – The Gift (Amberflame Remix) – [Theomatic Recs.]
3) Axefield – Ostrich Ride To Other (Original Mix) – [Atomnation]
4) Yukihiro Fukutomi – Music Is The Healer (Original Mix) – [Compost]
5) Loure – Smooth Talk (Saine Remix) – [Apparel Music]
6) Gabbana – Sailing (808 Dub) – [conscious sounds]
7) Black Jazz Consortium – GOD's Promise (Original Mix) – [Soul People Music]
8) Cuthead – Brother (Original Mix) – [Uncanny Valley]
9) Cuisine Dub – Stranci U Noci (Ivo Robic Edit) – [Ante Matas / Split, Croatia]
10) DN3 – The Line (Original Mix) – [Irma]
11) Four Walls – Tanzy (Original Mix) – [Housewax]