Podcast: Play in new window | Download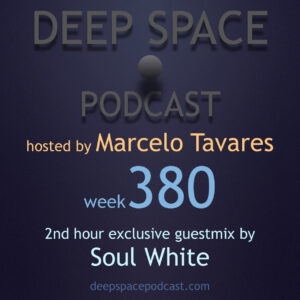 E ae!
Welcome to Deep Space Podcast! Many thanks for listening.
In the today's show you gonna listen an exclusive guestmix by SOUL WHITE, from South Africa.
I recorded the 1st hour at last Sunday, July 18th 2021, in the After do Bionic, live streamed on my Twitch channel.
Please check more detailed information about Soul White in the links below:
Facebook: https://www.facebook.com/oreokame.chweu
Instagram: https://www.instagram.com/chweusoulwhite/
Enjoy the week380!
Playlist:
Artist – Track Name – [Label]
1st hour mixed by Marcelo Tavares recorded at After do Bionic in July 18th 2021
1) SB-SIX – Emerald Sands – [Batavia]
2) Drisan – Du Pond Cez A'lert – [Krad]
3) S.A.M. – Louisiana – [International Sun-Earth Explorer]
4) Kai van Dongen – One Shot Drama
5) Smoke – Chamaaf – [Utopia Records Inc]
6) aspect. – awake/asleep – [Cold Fiction]
7) Masaru Saito – senya
8) WAX – WAX70007A – [WAX]
9) Fred P – Sky Earth Life
10) Spiral Dub – abeyance dub – [Insectorama]
11) Kristoban – Into The Distance – [deepindub]
12) Vicmari – Redline – [Blur]
2nd hour exclusive guestmix by Soul White (South Africa)
1) Biohazard People – Yin Yang (Max Cohle Remix) – [Round Robin]
2) Ordinary Subject – Withdrawn – [Reduce]
3) Center Beat – Lie (Deepstrict Remix) – [Tonic D]
4) Brickman – Zero Gravity – [Lucid]
5) Tripio X – No man's land – [Experimental]
6) Ben Hoo – Maledictum – [Get Physical Music]
7) Paul Yudin & Deep Square – Taiga – [Cycilc]
8) Evren Ulusoy – Convivum – [Leisure Music Production]
9) SHFT – Second Signal (Marc DePulse Remix) – [Yin]
10) Wade, Pawsa – Anahata (Proudly People Remix) – [Lost]
11) Modd – Nun – [Kindisch]