Podcast: Play in new window | Download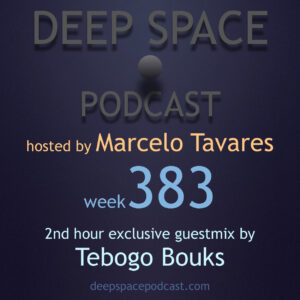 E ae!
Welcome to Deep Space Podcast! Many thanks for listening.
I'm back with a brand new show! Sorry for the lack of inspiration, I'll do my best for putting together weekly episodes as soon as possible.
Today you gonna listen an exclusive guestmix by Tebogo Bouks, from South Africa. He's the host from Do It For Radio heads at Drums Radio (UK) every Saturdays 3pm SAST.
Please check detailed information about Tebogo Bouks in the links below:
Facebook page: https://www.facebook.com/djbouks
Do It For Radio heads: https://web.facebook.com/doitforradioheads
Drums Radio: https://www.drumsradio.com
Enjoy the week383!
Playlist:
Artist – Track Name – [Label]
1st hour mixed by Marcelo Tavares
1) Faserklang – Simple Soul – [Scale Limited]
2) O Retiro dos Artistas – Relacionamos Com A Superestrutura – [40% Foda/Maneiríssimo]
3) Joey_M – On the Path – [Secuencias Temporales]
4) Tuomo Väänänen – Enclose – [Ljudverket]
5) OK EG – Intertidal Zone – [Wax'o Paradiso]
6) Michal Turtle & Suso Sáiz – Missing Papotl – [Planisphere Editorial]
7) Aura Safari – Oasis – [Hell Yeah]
8) Bright & Findlay – Slow Dance (Axes) – [Athens Of The North]
9) LOVA – Echoes Of Memories – [NuNorthern Soul]
10) Robert Fleck – Amber Glows – [Well Street]
11) Minus & MRDolly – B1. The Break (Max Graef's International Gathering Mix) – [Minus & MRDolly]
12) Miguel Migs – Before I Go – [Soulfuric Deep]
13) Dave Aju – Freeez – [MFF (Music For Freaks)]
2nd hour exclusive guestmix by Tebogo Bouks
Sorry, no playlist.